Talk:Treasure of Crystal Cove
Jump to navigation
Jump to search
Wrong Information
[
edit
]
Looks like someone updated the page with wrong information.. EG: Item information obtained from recipes, rather then the items themselves.
Being the items function per their own descriptions, that's reducing the usefulness of the wiki, and is to be discouraged.
Most of the items themselves have their stats posted on my thread and should be listed as such here, not based on the clearly bugged recipe descriptions. I have also spoken to the devs ingame to confirm that many descriptions are bugged. As are many items, but the items stats are how they actually will work, so thats the info players will be interested in, not the incorrect recipes. → Shade 10:39, February 12, 2011 (EST)
Progenitor Crystals
[
edit
]
The Cove now spawns Progenitor crystals:
[Screenshot 1]
[Screenshot 2]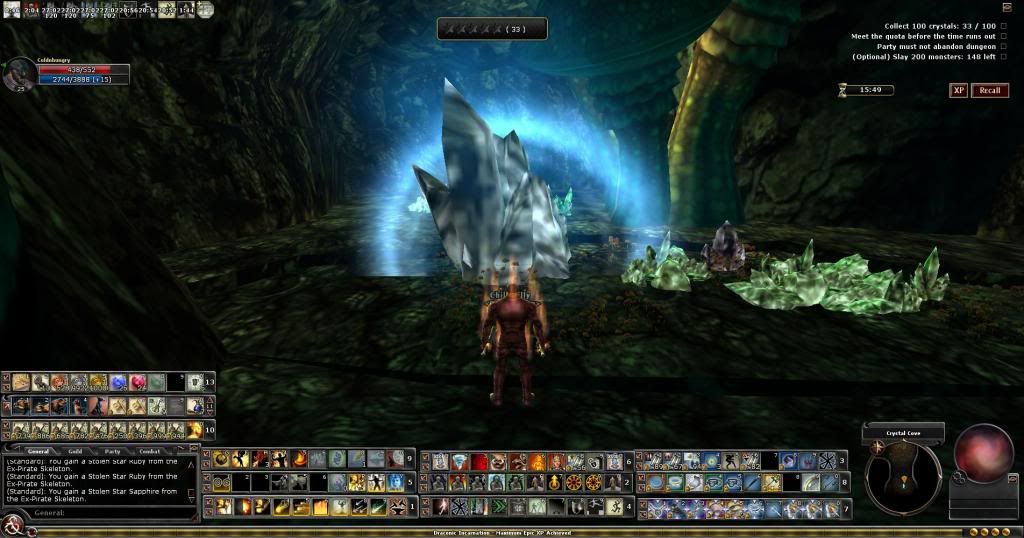 → --Zt2211 (Contributions • Message) 19:49, March 4, 2013 (EST)
What would be nice to know is what they are worth when turned in... Green crystals are worth 1, Purple crystals are worth 5-10 (idr exactly), Progenitor crystals are worth ???
ShoeMaker (Contributions 

•

 Message) 07:55, March 5, 2013 (EST)

Progenitor crystals are worth 100. Purple are worth 10. Nibelung (Contributions • Message) 09:31, March 5, 2013 (EST)
Spelling
[
edit
]
DDO has it as "Smuggler's Rest," with an apostrophe - do we want to move this page or just ignore it? -LrdSlvrhnd 21:00, February 23, 2011 (EST)
I say move the page(s). Backley 21:23, February 23, 2011 (EST)

I'd agree. I'll do that later tonight unless Yoko pops up and says "NO!" *g* (I wanna play with this new button I just found on my screen this evening...) -LrdSlvrhnd 22:22, February 23, 2011 (EST)

i would even say move this page to "Treasure of the Crystal Cove" or something. not too sure what is this event officially called by Turbine. we have Mabar Endless Night Festival page and Smuggler's Rest event is like calling it Derela's Graveyard event. --yoko5000 23:05, February 23, 2011 (EST)

Well, their guide for it is the "Treasure of Crystal Cove" guide, so that works for me. -LrdSlvrhnd 23:32, February 23, 2011 (EST)
New name
[
edit
]
Well, as far as I can tell, everything except User_talk:Yoko5000 and User_talk:SisAmethyst is now pointing here; I'm loath to edit somebody else's Talk, however lol -LrdSlvrhnd 01:52, February 24, 2011 (EST)
Map Countdown
[
edit
]
At least since Wed 23-Mar-2011 on the Orien server and as late as now, the Map Piece countdown starts from 3000, not 5000. Could be a weekday vs. weekend difference, time of day, server login count, change since the first run of the event, etc. Not sure how best to note that. Backley 22:37, March 24, 2011 (EDT)
L20\CR25 = 8000 (both optionals 0xp)
L2(with L6)\CR4 = 1100
L3(with L5(\CR5 = 2000 (1st opt 515, 2nd 391xp)
L4(with L5(\CR6 = 2300 (1st opt 412, 2nd 308xp)
L4(with L5(\CR6 = 2300 (1st opt 309, 2nd 239xp)
Seems to be a regular optional, with repetition penalty
September 19th 2011
[
edit
]
Update 11's release of the Crystal Cove [reportedly] changes the items to BTC instead of BTA. Unknown if this is WAI or a Bug.
[Screenshot] showing at least some items come out BTA. May be some items come out BTC, or maybe just a display error on the recipes. No screenshot has been shown with actual BTC items from the Cove. Can't really test anything until the Cover re-opens. Backley 17:24, September 19, 2011 (EDT)
Monster levels
[
edit
]
Sorry, know this is wrong header but i can't make a new one it seems What i wanted to say is very nice page but i'm missing a list of creatures. Would really help to have pictures so you can tell cr from looking at something instead of having to attack and risk getting killed to find out. Lowly lvl 8 (now 9) attacking cannoneer or some such→ Zzelly The official compendium has such a [list]. by Mjoll 15:14, October 8, 2011 (EDT)